Wednesday:
Decisive Decade
In Italy size matters. So does family. That's why we added an extra day (and night) to the Impact Week, reserved for EVPA members only.
Finishing Strong

 

If 2030 seems close and achieving the Sustainable Development Goals seems urgent, you're in the right place. Wednesday will kick off our 

2030 track.

It will put a special focus on the SDGs, with success stories to show how far we've come and actionable working sessions to investigate what can get us across the finish line together. 

The track continues with workshops on Friday.

 
Thursday:
Three Tracks for a World on Track
Not one but three stages will host our impact conversations this year. Thursday is the day for seriously big talks!
Better Together

 

Join the

Impact Together stage

 for shining examples of collective action to bring about positive change. Get insights from public-private partnerships, former competitors working together and unexpected allegiances – these stories and more put the spotlight on why we're better together.

The track continues with workshops on Friday.

  

Zero to Hero

 

Impact Week isn't just about creating a net-zero economy, but also zero poverty, zero discrimination, zero inequality and many more ideas to fix the world's wickedest problems. To find solutions, we need all the heroes we can get! Meet the people, projects and principles making breakthroughs in impact finance on our

Impact Heroes stage

. 

The track continues with workshops on Friday.

 

Need for Speed

 

The

Accelerate Impact stage

showcases catalytic capital, enabling policies and other examples of systemic change. It's also where we launch strategic ideas that can speed up our journey to a more equitable and sustainable world. 

The track continues with workshops on Friday.

 
Friday:
Action Required!
Every session, workshop and meetup of Impact Week contains actionable insights for accelerating change. Our

six action tracks

break it down along thematic lines, while emphasising the interconnected solutions and partnerships necessary to move beyond talk to outcomes. 
With 65 sessions to choose from, Friday is our workshops day!
The Triple Crisis

 

Build the partnerships that can help us solve interconnected crises in climate, food and energy

> In partnership with

EIT Food

  

Take Care

 

Meet the innovators working to end health disparities

> In partnership with

NN Group

 

Impact Works

 

An inclusive economy can also be an expanding one – see how we can create jobs for all, in a recession, in the metaverse and who knows where next

 

Impact by Numbers

 

See how to put data to work to drive the impact economy

 

Impact Cities

 

Build smart and resilient communities; reclaim and reform the urban space for a greener, more inclusive future

 

Impact by Design

 

Shape the sustainable and inclusive economy through design, creative industries and culture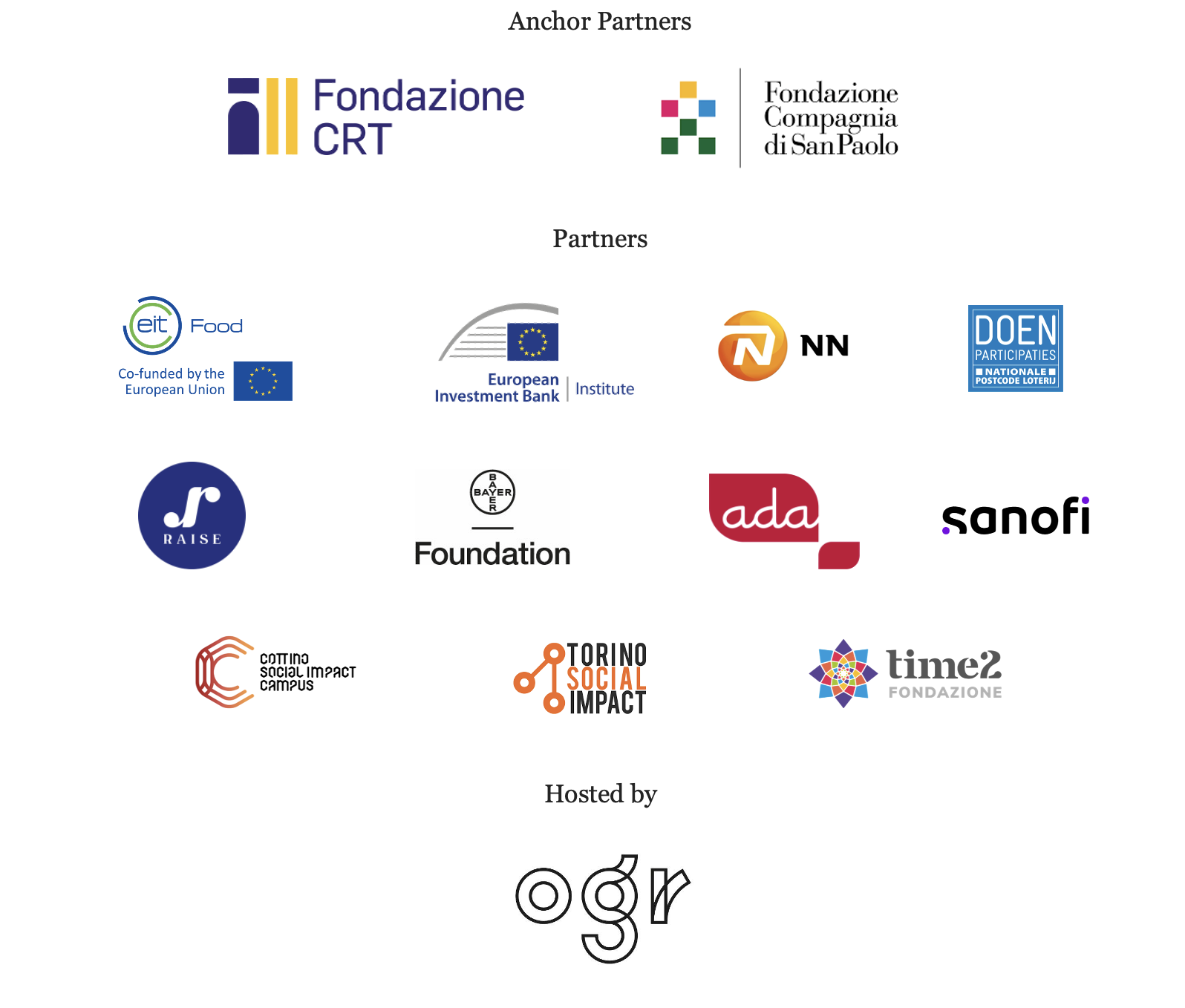 Impact Week 2023

Registration website for Impact Week 2023
EVPAconference@evpa.eu.com
EVPAconference@evpa.eu.comhttps://www.impactweek.eu/torino
2023-11-22
2023-11-24
OfflineEventAttendanceMode
EventScheduled
Impact Week 2023Impact Week 20230.00EUROnlineOnly2019-01-01T00:00:00Z
Gare MaritimeGare MaritimeRue Picard 11 1000 Brussels Belgium