To accelerate positive change for people and planet, we need to get the right people in the room and weave new webs of change. Impact Week brings changemakers together to mobilise capital for true social transformation.
We'll share fresh ideas that can enable net-zero economy, ease inequalities and elevate economic and social prospects for all.
We'll draw connections that will accelerate and scale up solutions.
And together we'll create those 'aha!' moments that can speed up an organisation's journey from theory to outcomes.
Come join us in Brussels, where surrealism reigns and every challenge is met with humour and irony!
The Week at a Glance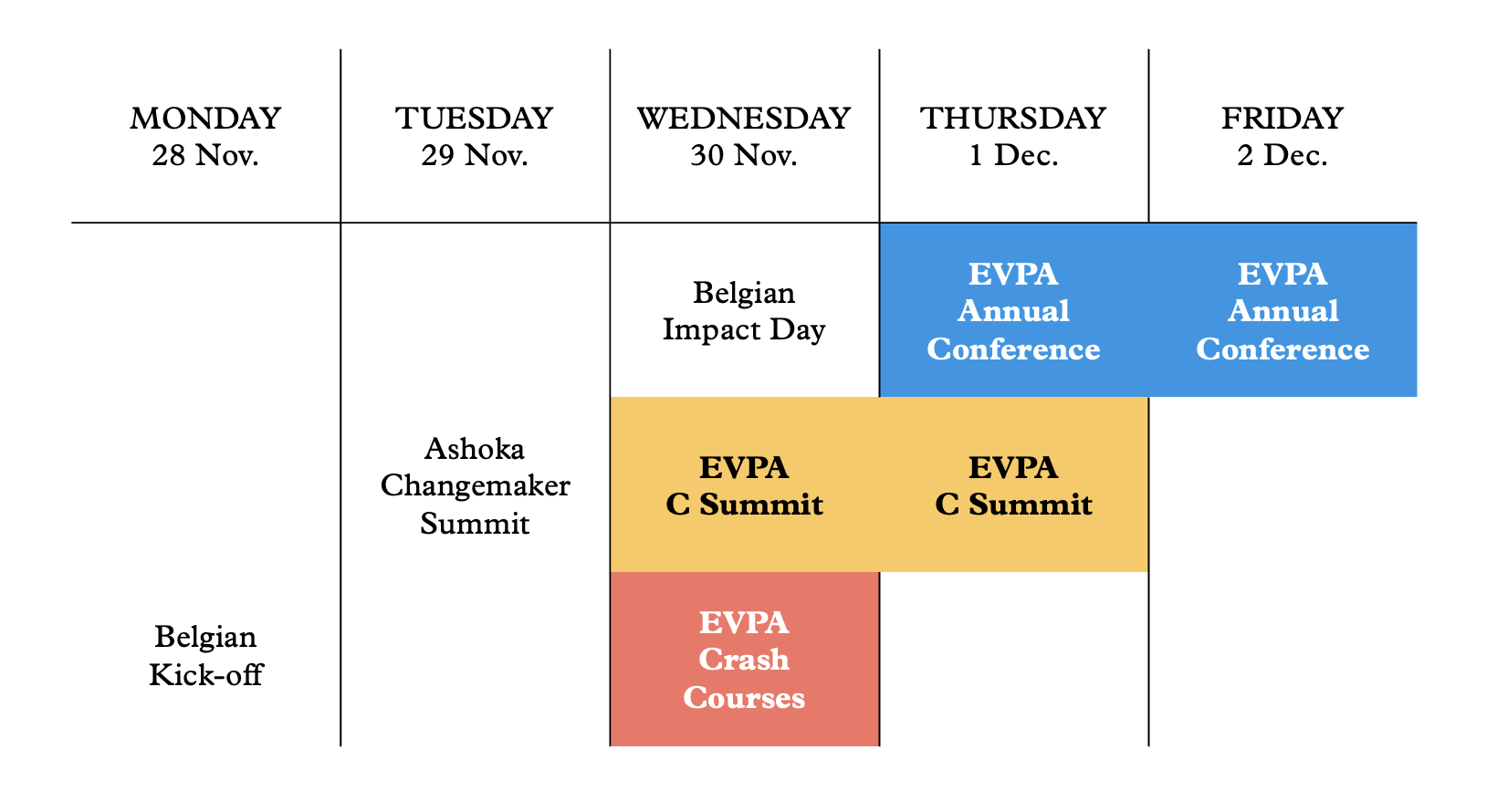 Impact Week is about breaking barriers and forming webs of change for more dynamic, resilient and equitable societies!
That's why we partnered with Impact Finance Belgium, the country's emerging impact community, and Ashoka, the world's leading social entrepreneurs network, to form new connections.​
The week will start with a grand opening, hosted by Impact Finance Belgium. Ashoka's Changemaker Summit will kick off on Tuesday and continue on Wednesday, the Belgian Impact Day. Check out their sites to learn more and see how you can join. EVPA members, we have discounts for you, just contact us.
Wednesday
The event of the day will certainly be the opening of our C Summit, the flagship gathering for corporate social investors in Europe! Centred on the coherence between business and impact strategies and the power of collective action, 
C Summit programme continues on Thursday and in the afternoon merges with the Annual Conference for some moments of genuine impact synergies (on and off the dance floor)!
Wednesday is also the EVPA Learning Day. Hungry learners among you can join two exciting courses on Investing for Impact and Corporate Social Investing. Hurry up, places are limited!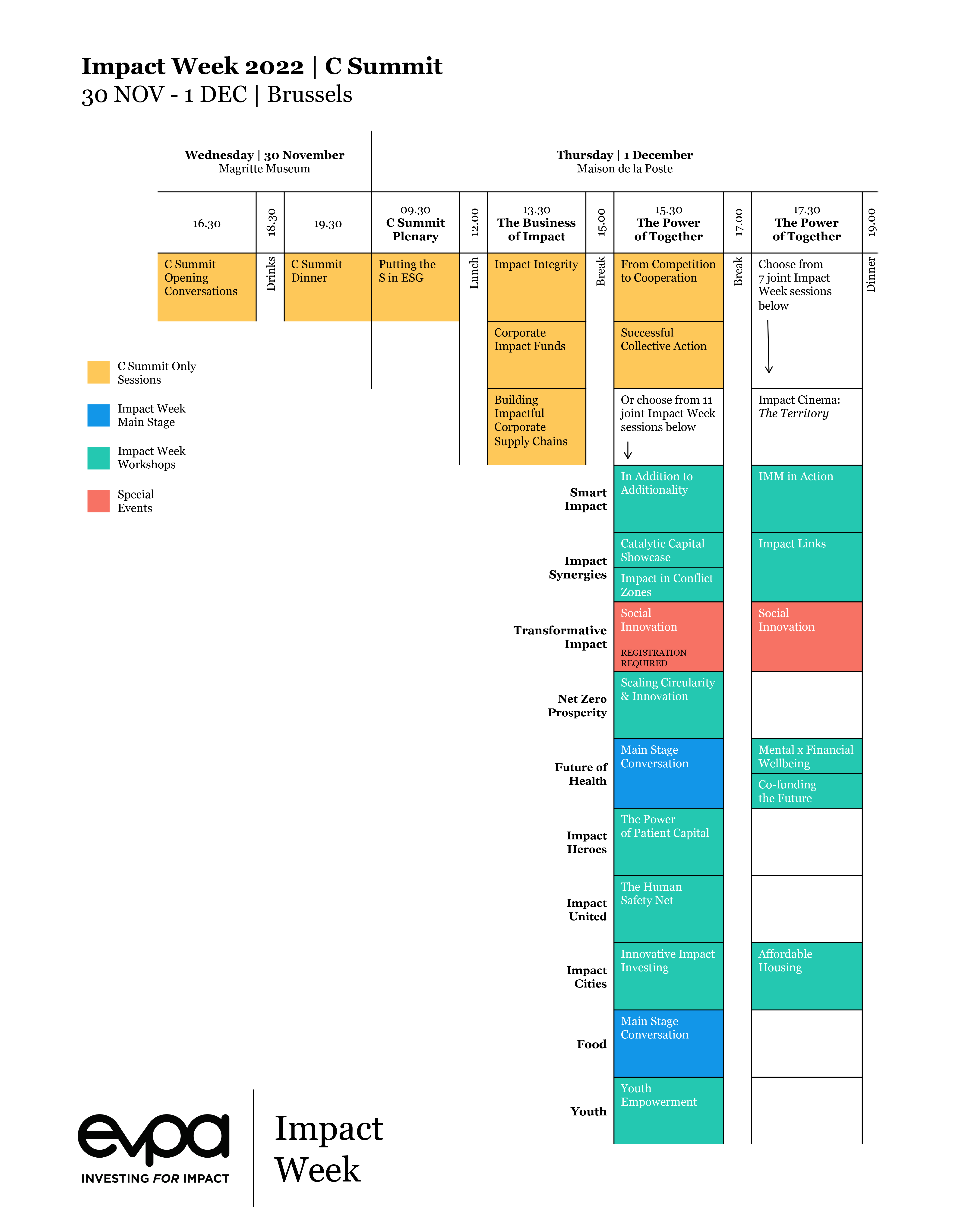 Thursday
This is when EVPA Annual Conference takes off. Thursday is all about emergence of new approaches, partnerships and energy to accelerate continental shifts in solving Europe's most pressing social and environmental issues. Learn more about 10 Annual Conference programme tracks.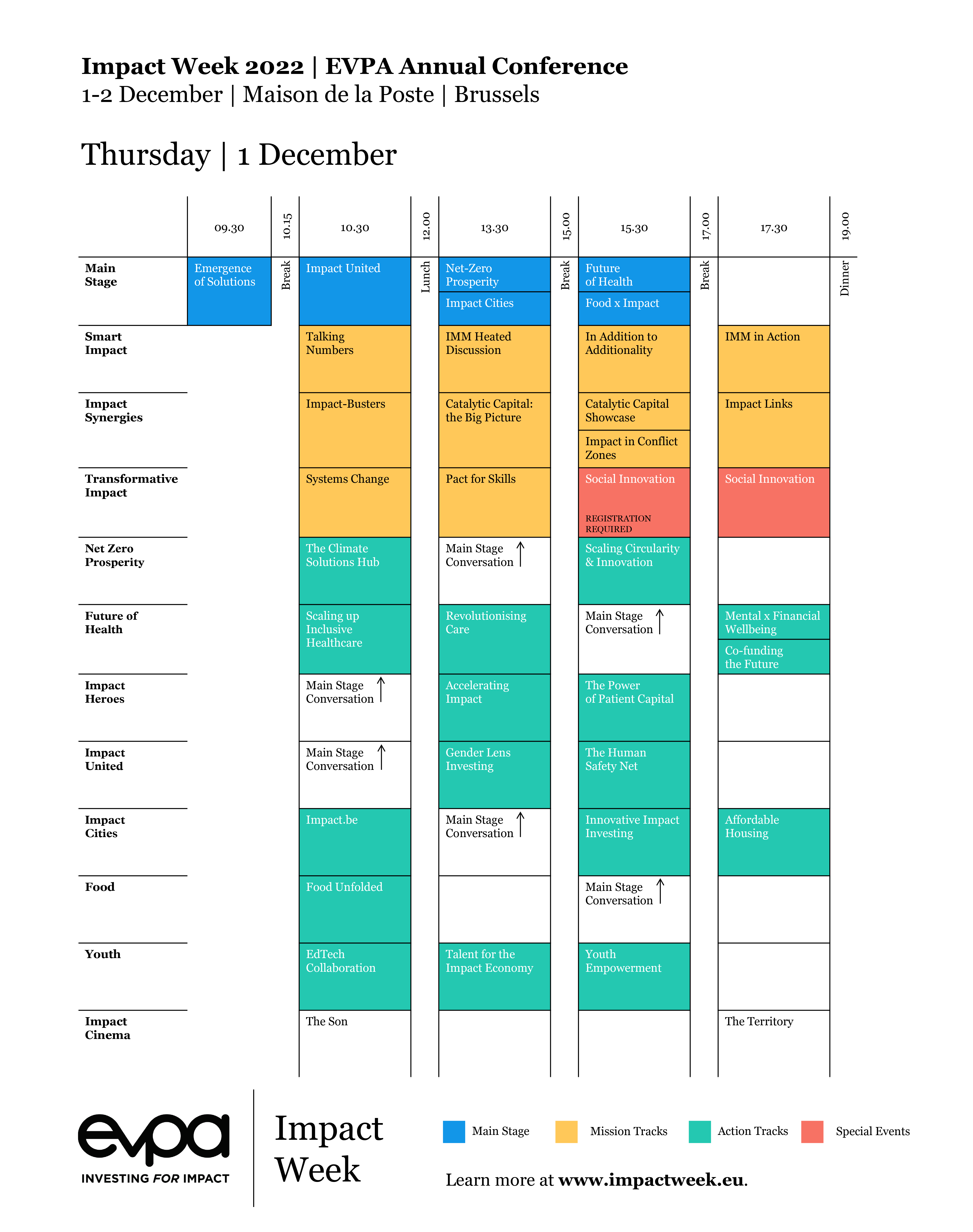 Friday
This is the day for boosting social innovation, with a focus on new business models, funding instruments, inclusion strategies. Special programme streams will be dedicated to EU funding, impact incubators and accelerators and catalytic capital and impact funds.
A forward-looking week's finale will focus on weaving new networks for change.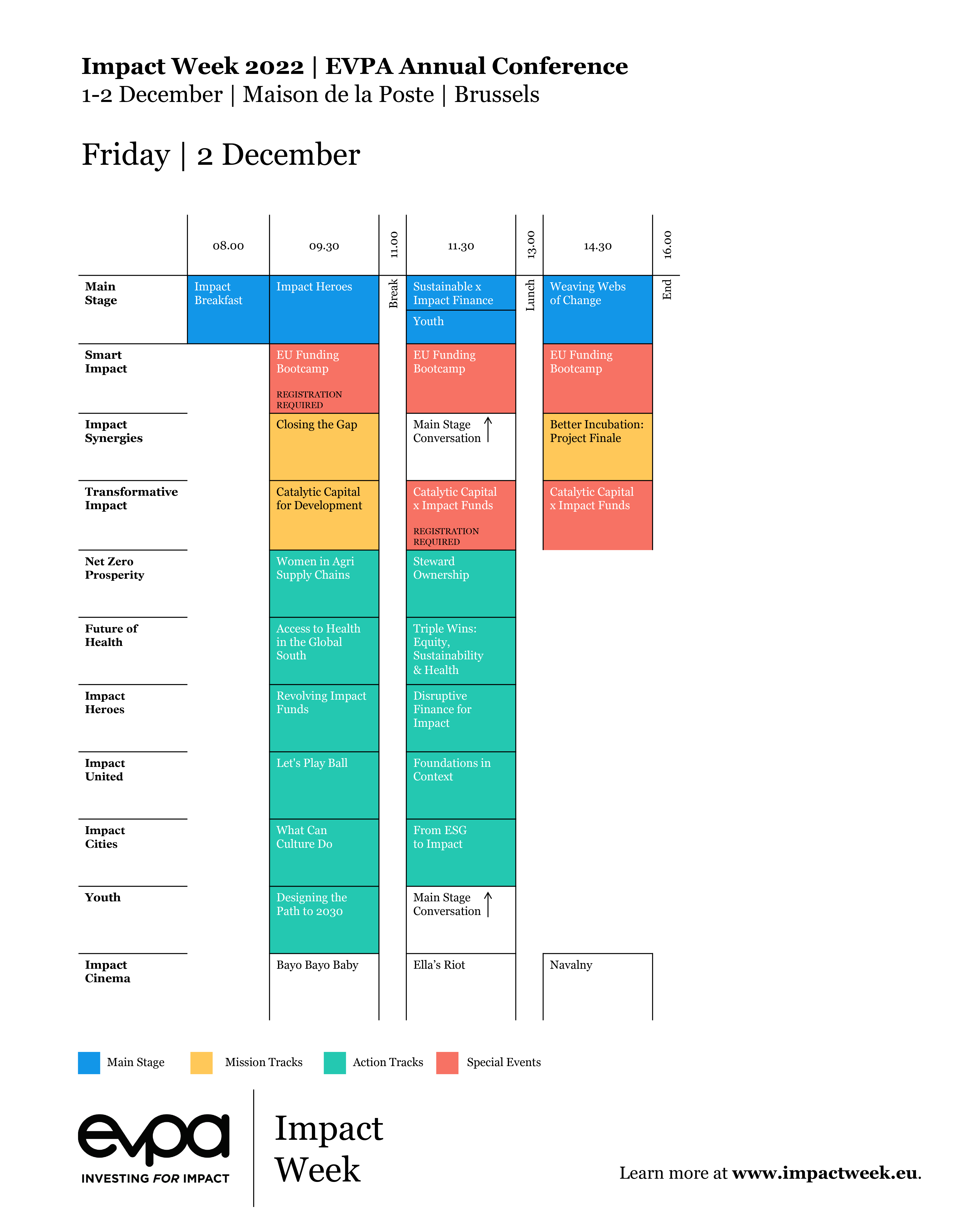 ​

And then?
The conversations will continue and the real work will start!
 Impact Week 2022 Sponsors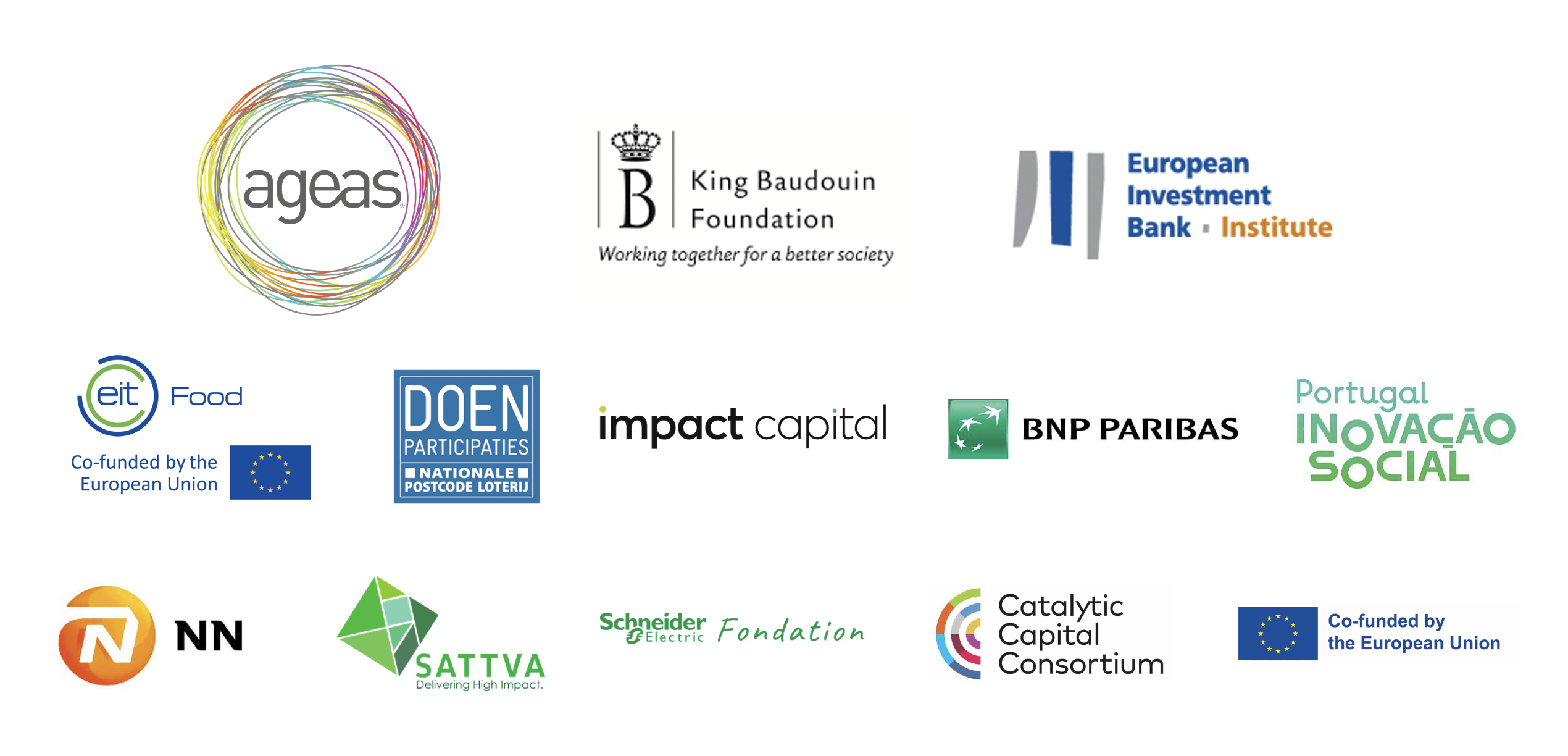 Impact Week

Registration website for Impact Week
EVPAconference@evpa.eu.com
EVPAconference@evpa.eu.comhttps://www.impactweek.eu/brussels
2022-11-30
2022-12-02
OfflineEventAttendanceMode
EventScheduled
Impact WeekImpact Week0.00EUROnlineOnly2019-01-01T00:00:00Z
Gare MaritimeGare MaritimeRue Picard 11 1000 Brussels Belgium