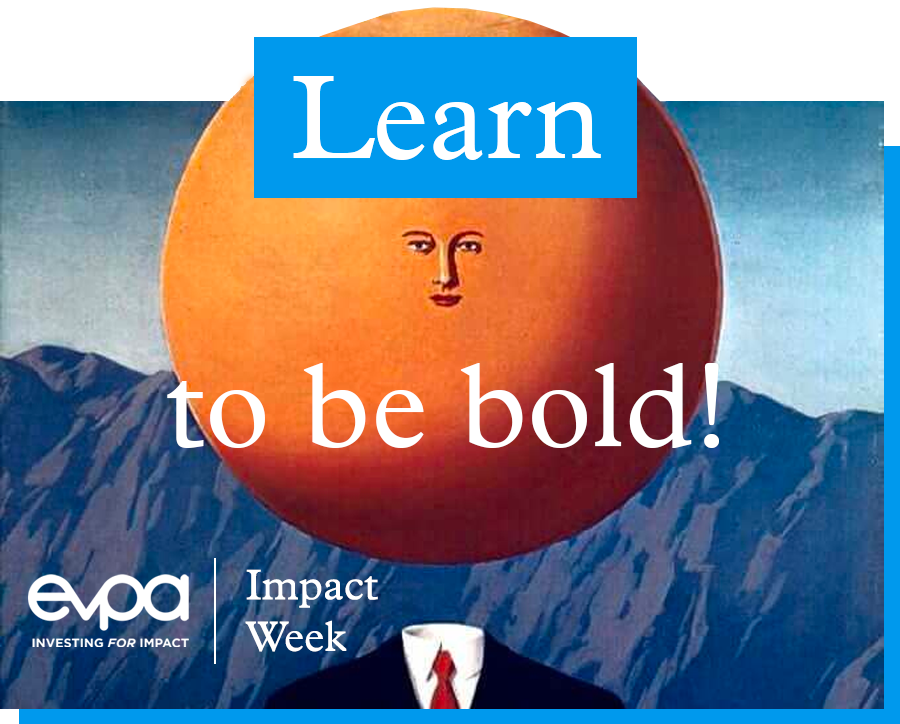 Corporate Social Investing: the Next Level
Knowledge Summit for Corporate Social Investing  
This all-day, interactive session collects today's most crucial knowledge on corporate social investing. Participants can learn and contribute their perspectives in a dynamic setting, fuelled by research, practitioner expertise and workshops that address the most crucial questions and challenges CSIs face. It's a session designed to bring together all the most relevant knowledge – and Europe's most innovative CSIs – in one place. 
We'll begin by charting the evolution in the corporate social impact space from traditional philanthropy and corporate social responsibility to CSI and ESG. Then we'll share new research that presents today's state of corporate social investing, discusses strategic alignment between a CSI and its related company and illuminates strategies for safeguarding impact integrity. The morning will conclude with practitioner insights that show these ideas in action. Then, after lunch, it's time for breakout sessions and plenary discussions based on your practical experiences and insights.  
Throughout the day, participants will get actionable takeaways to bring back to their organisations, in service of driving more impact in the corporate social investing space. For a CSI seeking the very latest knowledge from peers and experts, this is the place.  
We'll explore:
> what is corporate social investing
> how to mobilise corporate resources, both financial and non-financial, social and environmental impact
> what are the latest trends and best practices of corporate social investors to enhance their positive impact
> how different types of strategic alignment shape the relation with the company's core values and business
> what is impact integrity and how can we successfully safeguard it?
Who is it for?
> Corporate social investors (from corporate foundations, impact funds, impact accelerators, social businesses)
> Corporate social responsibility professionals
> Representatives of corporate business units
> Impact investors
> Newcomers in the corporate philanthropy and social investing space
Price: €300 | €150 for EVPA members
The Format
The course consists of two parts:
Self-paced e-learning: Through our e-learning platform you will have access to short readings, videos and interactive learning materials to build the necessary knowledge base on corporate social investing (duration: 3 hours). This basis will enable you to engage with the experts and your peers during the live session in Brussels.
In-person session in Brussels: This session will complement your e-learning. You will not only have the opportunity to discuss real-life cases with corporate social investors and how they create more impact using different strategic alignment strategies and how they safeguard impact integrity. You will also be able to engage with your peers and discover how you can start applying the principles of corporate social investing and use the tools presented to clarify your impact strategy.
The in-person session in Brussels will take place on Wednesday, 30 November, 09:00-16:00, at the Magritte Museum.
The Context
It's no secret that companies have started to understand the role they must play in our wider society. The pandemic further accelerated this awareness, leading to increasing the number of companies to revisit their corporate social investment strategy and redefine their business purpose. But why are we convinced that corporate social responsibility and traditional corporate philanthropy are not enough?
The paradigm that sees corporates go beyond just fixing negative externalities and proactively seek for a positive social and environmental impact is gaining wider acceptance. Corporate social investors (CSIs) -e.g. corporate foundations, impact funds, impact accelerators, social businesses- are often set up by corporates with this objective. These CSIs support social purpose organisations (NGOs / social enterprises) financially, by deploying patient capital through long-term and high engagement investments (in the form of grants, equity and/or debt),, and non-financially (e.g corporate expertise and assets). Their primary objective is to create social and environmental impact, and they play an increasingly important role in making their related company's business more sustainable and inclusive.
Furthermore, the CSI and its related company can pursue different strategic alignment strategies (from no alignment to business alignment) that allow them to enhance their social impact.
But being an impact-driven organisation linked to a company is not easy. How can corporate social investors deal with the inherent tensions that this relationship brings, and protect their societal mission from potential negative external influence? In other words, how can corporate social investors safeguard their impact integrity?
The training will offer a first and foremost an introduction to corporate social investing and to the different strategic alignment strategies that corporate social investors can pursue with their related company in order to enhance their social impact. But it will also reserve a safe space for honest discussions on the burning topic of impact integrity to reflect on the challenges of being linked to a corporate for a corporate social investor and the various possible mitigation actions to tackle these challenges and manage the impact integrity risk.
The Line-up

Blending her experience in the non-profit and private sectors, Shareena Hatta joined the Innovation Foundation to head the CEO for One Month programme and their Youth Employability Solutions. Over the course of her career, her path has led her to form expertise in the broadcast media, finance, and education industries underpinned by the purpose of creating social value. Originally from Malaysia, she grew up criss-crossing the world through Myanmar, Indonesia, the US, Belgium, and Hong Kong before ending up in Switzerland. Cross-cultural understanding and the global reach of impact and scale are continuous drivers for any work that she undertakes. Arriving in Switzerland, Shareena managed Hult International Business School's Alumni Affairs department, creating and implementing global strategies to build thriving local alumni communities. Soon after, she moved to the World Economic Forum, heading the Young Global Leader's Alumni Community and Programming portfolio.  
Céline has a 20-year track record across the full spectrum of social change, venture philanthropy and international cooperation. As the Deputy Director of the Trafigura Foundation, she oversees a global portfolio of partnerships geared towards improving the living conditions of vulnerable communities in countries where the Trafigura Group is active. Céline has developed innovative approaches to foster human development with a particular reference to contexts affected by war and poverty. She started her career at the Swiss Federal Department of Foreign Affairs before joining the HD Centre, an organisation working discretely beyond the frontiers of traditional diplomacy; it engages governments, non-state armed groups, opposition parties and private sector actors to reduce violent conflict and limit the human suffering caused by war. In addition to working with the government and non-for-profit sector, Céline was also employed by a global management consultancy firm where she specialised in change management processes in multinational corporations. Céline holds a Master's degree in International Affairs from the Graduate Institute in Geneva and a Certificate in Innovation & Sustainability from Harvard University.
As the Corporate Initiative Research Manager, Lev's role is to drive EVPA's research and thought leadership on corporate social investing by conducting research projects on the latest trends and questions in the field. In this role, he is responsible for the full research cycle, drafting and developing research publications, as well as sharing research findings. Lev holds a doctorate in criminal justice from the School of Criminal Justice within Michigan State University and an MA in Nonprofit Organization Management from Babeș-Bolyai University. Lev is also a founding member of the Initiative for European Democratic Culture (ICDE) think tank, a research fellow at Fagaras Research Institute and Center for the Study of Democracy, and the recipient of the Romanian Young Academics Fellowship.
Nicolas Malmendier is Corporate Initiative Associate at EVPA. He has an academic background in English and German Linguistics and Literature as well as International Business Economics and Management. Nicolas joined EVPA in 2020 and has since then been driving the research activities in the field of European corporate social investing practices. He has an in-depth understanding of ways to advance social impact by strategically leveraging corporate resources. Among his research topics are the strategic alignment between a corporate social investor and its related company, collective corporate impact strategies, and safeguarding impact integrity.
Impact Week

Registration website for Impact Week
EVPAconference@evpa.eu.com
EVPAconference@evpa.eu.comhttps://www.impactweek.eu/brussels
2022-11-30
2022-12-02
OfflineEventAttendanceMode
EventScheduled
Impact WeekImpact Week0.00EUROnlineOnly2019-01-01T00:00:00Z
Gare MaritimeGare MaritimeRue Picard 11 1000 Brussels Belgium