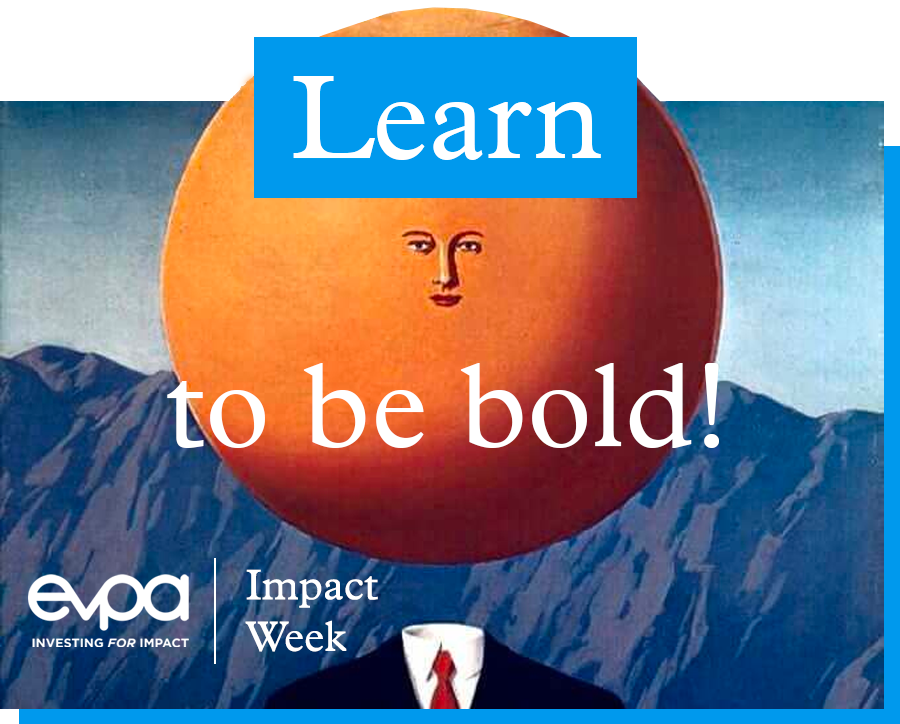 Corporate Social Investing: the Next Level
A Knowledge Summit for Corporate Social Investing  
This all-day, interactive session collects today's most crucial knowledge on corporate social investing. Participants can learn and contribute their perspectives in a dynamic setting, fuelled by research, practitioner expertise and workshops that address the most crucial questions and challenges CSIs face. It's a session designed to bring together all the most relevant knowledge – and Europe's most innovative CSIs – in one place. 
We'll begin by charting the evolution in the corporate social impact space from traditional philanthropy and corporate social responsibility to CSI and ESG. Then we'll share new research that presents today's state of corporate social investing, discusses strategic alignment between a CSI and its related company and illuminates strategies for safeguarding impact integrity. The morning will conclude with practitioner insights that show these ideas in action. Then, after lunch, it's time for breakout sessions and plenary discussions based on your practical experiences and insights.  
Throughout the day, participants will get actionable takeaways to bring back to their organisations, in service of driving more impact in the corporate social investing space. For a CSI seeking the very latest knowledge from peers and experts, this is the place.  
Who is it for?
> Senior level representatives from corporate social investors (from corporate foundations, impact funds, impact accelerators, social businesses)
> Corporate social responsibility professionals
> Representatives of corporate business units
Price: €300 | €150 for EVPA members
The Format
The course consists of two parts:
Self-paced e-learning: Through our e-learning platform you will have access to short readings, videos and interactive learning materials to build the necessary knowledge base on corporate social investing (duration: 3 hours). This basis will enable you to engage with the experts and your peers during the live session in Brussels.
In-person session in Brussels: This session will complement your e-learning. The in-person session in Brussels will take place on Wednesday, 30 November, 09:00-16:00, at the Magritte Museum.
09.00

  
Welcome

09.10

 

Setting the Scene

The evolution in the corporate social impact space from traditional philanthropy and CSR to CSI and ESG.

09.30

 

Main Concepts

Introduction to the three main topics: corporate social investing, strategic alignment between a CSI and its related company, and safeguarding impact integrity.

09.50

 
Q&A

10.00

 

Open up

Participants will get the chance to share their context, experiences, questions and concerns with the group. 

10.45
 

Break

11.15

 

True Story

CSI transitioning between strategic alignment types while safeguarding impact integrity.

11.30
 

Q&A

11.50

 

True Story

CSI safeguarding impact integrity.

12.05
 

Q&A

12.30
 

Lunch

14.00

 

Know Yourself

Individual Reflection using the EVPA Impact Integrity Matrix self-assessment tool and defining questions to address in smaller groups

14.15

 

Breakouts

Finding solutions as a group for issues that individual participants experience in their own context

15.15

 

Full Circle

Reporting back to the big group

15.45
 

Thank you & feedback

16.00
 

The end ... or the beginning: join the C Summit Opening
The Line-up
Impact Week

Registration website for Impact Week
EVPAconference@evpa.eu.com
EVPAconference@evpa.eu.comhttps://www.impactweek.eu/brussels
2022-11-30
2022-12-02
OfflineEventAttendanceMode
EventScheduled
Impact WeekImpact Week0.00EUROnlineOnly2019-01-01T00:00:00Z
Gare MaritimeGare MaritimeRue Picard 11 1000 Brussels Belgium